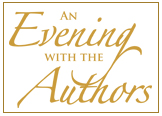 Friday, March 1, 2019 5:30-8:30 p.m.
Meet and mingle with the festival's bestselling authors during a sunset cruise along the Caloosahatchee River. Join us aboard the Capt. JP, a three-story paddleboat offering a buffet dinner and cash bar.
Paid reservations required. More information coming soon.
Proceeds support the Southwest Florida Reading Festival scheduled for March 2, 2019.
Please note that not all authors may be in attendance due to unavoidable travel delays.